Consultation now open
Thank you to everyone who commented during the trial period. We are now consulting on permanent proposals for this area. Have your say in this final consultation - consultation closes 2nd April 2023.
December 2022 update - Camden Square Factsheet now available including information on all the data gathered on the scheme so far. We have sent an update to all local residents, businesses and stakeholders which can be found at the bottom of this page.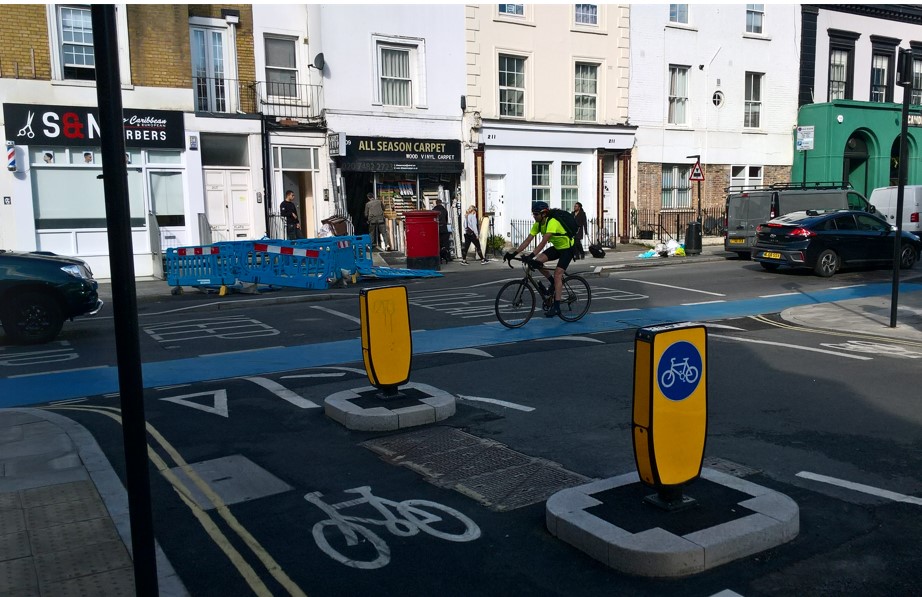 Trial pedestrian and cycling changes to the Camden Square Area.
In February 2021 we ran a 3-week consultation on the changes we proposed for this area. Thank you to everyone who took the time to share their views. We had a total of 612 responses to the consultation with many people providing valuable comments. We have made a number of amendments to the trial changes based on comments from the consultation.
You can read the decision report , which includes our feedback to the consultation responses, and the design changes we have made following your feedback from the consultation. We have sent a letter to all local residents and stakeholders outlining all the trial changes taking place.
Summary of trial changes:
The trial traffic changes in the vicinity of Camden Square, Agar Grove, St Pancras Way and Randolph Street will include road safety improvements, additional cycle lane facilities and new pedestrian crossing points. This will mean less traffic using residential streets as cut-through between main roads, better facilities for walking and cycling and more space for people to cycle and walk in Camden. For a full list of the changes including to parking and loading read the letter we sent to residents and stakeholders.
An upgrade to the existing green space on Agar Grove (connecting into Rochester Square/Stratford Villas).
An upgrade to the existing signalised junction of St Pancras Way, Randolph Street, Agar Grove to improve safety and accessibility for pedestrians and cyclists.
A new "parallel zebra" crossing (allowing both pedestrians and cycles to cross with priority) on Agar Grove to improve safety and accessibility for pedestrians and cyclists immediately east of Agar Place.
Relocation of the existing bus stop on Royal College Street and a new pavement build out to facilitate a northbound cycle crossing into Randolph Street.
A new cycle connection between Royal College Street and York Way, joining up with a proposed new cycle route starting at Hungerford Road in Islington. This will connect the new cycle schemes on St Pancras Way, Camden Park Road, York Way and the existing "Cycleway 6" route connecting Kentish Town to Elephant and Castle.
An extension to the existing advisory cycle lane on Agar Grove leading up to the junction with St Pancras Way to the new parallel zebra crossing, and further east towards the Agar Grove Estate bus stop. The cycle lane would be segregated from general traffic by use of wands.
New blue resin surfacing in the southbound cycle lane direction across junction of Royal College Street and Randolph Street to enhance cycle safety.
New partially segregated cycle lanes on Randolph Street (in both directions) using wands to improve connectivity between Royal College Street, St Pancras Way and Agar Grove.
A new road layout on Cliff Road to improve safety and visibility for cyclists, and to reduce conflict with motor vehicles.
A refresh of the existing road marking at the junction of York Way with Cliff Road and Hungerford Road, including a new "Advanced Stop Line" on York Way and Hungerford Road.
Cycling and walking changes to Rochester Square and Cantelowes Road at the junction with Camden Road, to improve connection to Transport for London's proposed pedestrian crossing improvements on Camden Road